Science
AT OPEN DAY 2018
For further information and guidance about studying science, speak with our academic advisers about:
astronomy and astrophysics
biology
biomolecular sciences
biotechnology
chemistry
geology and geophysics
mathematics
palaeobiology
physics
statistics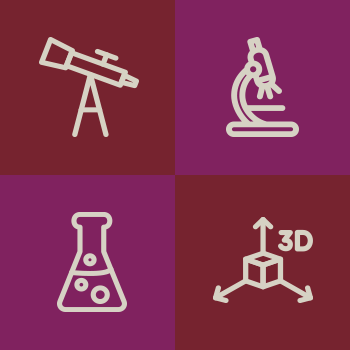 Featured events
Interested in science? We've highlighted some lectures and activities for you to check out.

Health and medical sciences,…
Tour: Earth and planetary science facilities
Take a guided tour of our world-class and cutting-edge Earth and planetary science facilities.
Read more

Science
GeoScience in action
Get a taste of Earth and planetary sciences, and take part in our amazing race. If you participate in all five activities and solve the riddle, you'll score an awesome prize!
Read more

Engineering and IT, Science
PACE in Science and Engineering
Macquarie's unique PACE (Professional and Community Engagement) program engages you in real-world learning activities with organisations across Australia and around the globe. Through PACE you'll gain that all-important practical experience employers really value,…
Read more

General, Health and medical …
Tour: Simulation Hub
Want to drive a car, fly a plane or go to Mars without leaving campus? Visit our Simulation Hub, which houses state-of-the-art simulation equipment that our psychologists, physiotherapists and computer scientists use to measure human behaviour. It includes driving…
Read more

Science
Mathematics
Mathematics is the language of science and technology. Graduates with high-level mathematical skills are readily sought after by many of the world's leading companies, and careers are available in a wide and varied range of fields. Visit us to learn more about our…
Read more

Engineering and IT, Science
Postgraduate: Science and engineering
Your undergraduate degree is just the first step in starting your dream career in science. In this lecture, we'll outline our wide range of postgraduate courses in science and engineering, which will complement your previous studies and increase your employability…
Read more

See all science events
Interested in
studying science
at Macquarie?
The best way to find out about all things science at Macquarie is at Open Day. View all events and start planning your day.